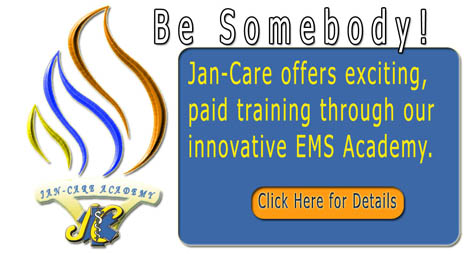 Jan-Care Ambulance Service, Inc. was established in 1970 in Oak Hill, West Virginia by Richard Cornett, Mr. Cornett recognized that the patient transportation needs were not being adequately met by the funeral home services at the time. Mr. Cornett envisioned a service of high quality, compassionate patient care and transportation that would meet the needs of the growing communities of West Virginia, which he has devoted his life to provide.



Today... Jan-Care, serves West Virginia and Ohio and offers a full range of medical transportation services ranging from the most advanced high-risk critical care emergency transports such as neonatal and ventilator patients as well as patients requiring cardiac surgical intervention, to emergency and non-emergency services, including pre-scheduled admissions and discharges, emergency scene response, transportation to and from doctors' offices and nursing homes as well as other treatment centers such as dialysis, radiation and physical therapy. Jan-Care also serves as the primary 911 provider in many of the communities that we serve. In addition to state-of-the-art medical transports, we provide a one of a kind communications center staffed with certified Emergency Medical Dispatchers to coordinate transportation to meet your needs at no added cost but significant benefit to our patients and customers. Jan-Care will work with individual hospitals, nursing homes, and other medical facilities to coordinate an appropriate and timely response to your needs.

.
New Classes Starting Soon!

Register now for our new roster of classes.
Online Registration Coming Soon




Why Choose Us?

| | | |
| --- | --- | --- |
| | Challenging paramedics, EMT's and communicators to be technically proficient while providing compassionate care is a colossal goal for any company. We have achieved this goal and created a dynamic presence in ambulance transportation in West Virginia by employing only the best. By motivating, empowering and treating each of our employees with respect, and consistency we are proud to have the highest caliber of employees in the industry. Our tireless efforts to determine the best possible and most appropriate patient care has made us leaders and educators in the emergency medical transportation services. | |