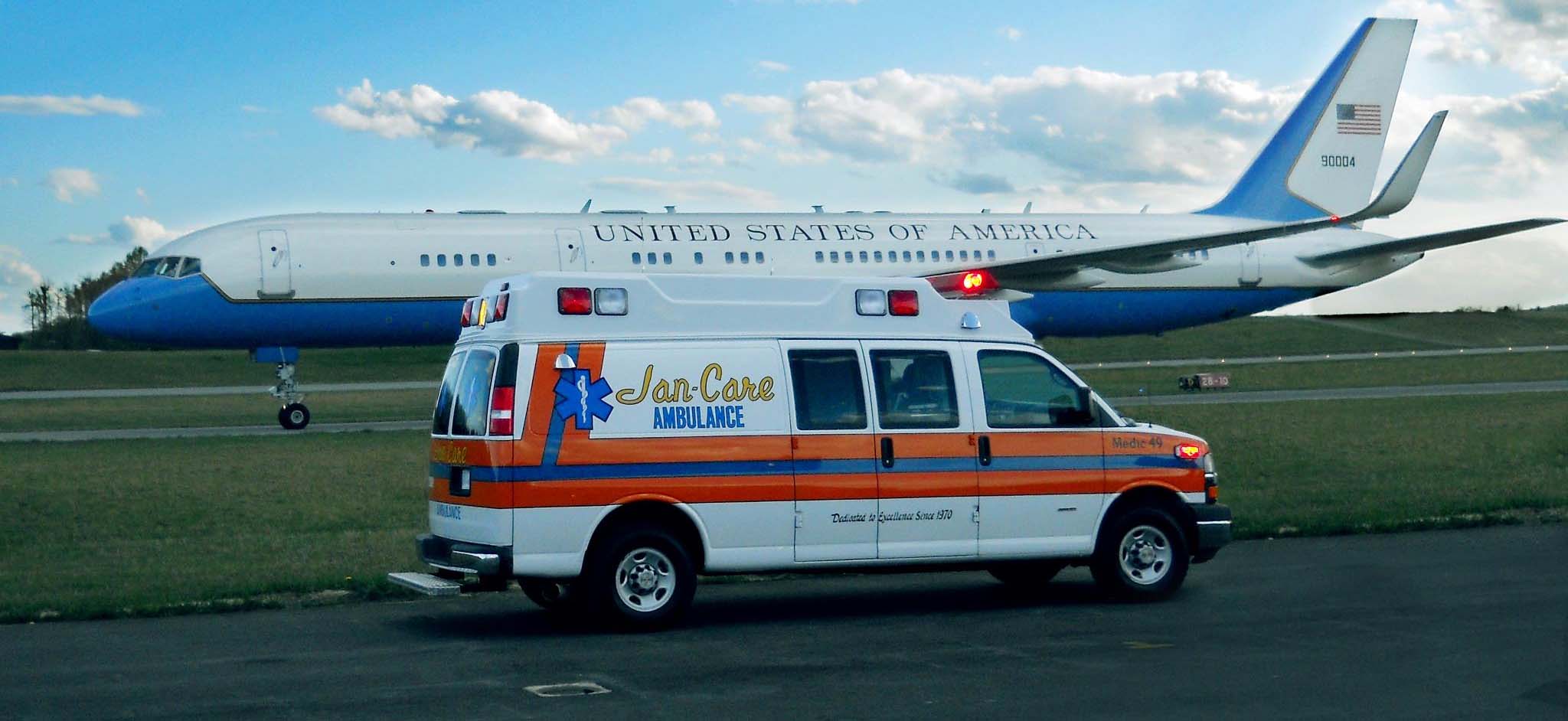 Jan-Care is small enough to care but large enough to be there. Whether the mission is to provide relief for the WTC 9-11 disaster, Hurricane Sandy or Katrina, the UBB mining disaster, or simply an interfacility transport of taking your loved one to dialysis, Jan-Care stands ready to answer the call with compassionate professionals.  Find out why Jan-Care is dedicated to excellence.
Over the past 40 years people have sometimes been puzzled by the level and degree of Jan-Care Ambulance's altruistic activities.  Those things the organization does for little or no reimbursement and for people both in and outside our coverage areas.

Jan-Care remains solemnly proud of our private for-profit status; this means that we serve our communities without asking for governmental or tax-based assistance.  We want to earn the right to provide care for our patients. And yet this business model does not fully explain the 'heart and soul' of our organization.

While the core and traditional philosophy instituted and maintained by this family-run business was not learned or adapted from a textbook, perhaps it is best explained by paraphrasing excerpts from noted business author Robert K. Greenleaf's renowned essays, The Servant as Leader and the Institution as Servant.

A servant-leadership inspired organization begins with an innate desire to serve, from this foundation a conscious choice in made to care for others and lead in times of crisis.  The entire organization sincerely feels that their success is ultimately measured by the degree of enrichment they provide in the lives of others. And perhaps most compelling; these organizations differ from other institutions or persons of good will in that they willingly and consistently act on what they believe. Service inspired organizations do not find satisfaction in talking the talk; they confidently and willingly make every effort to walk the walk, each day.

At the very heart and soul of Jan-Care radiates an innate desire to serve.  From this core value rises a conscious resolution to deliver high quality and compassionate care to others and provide inspired leadership within EMS and healthcare. Each day we sincerely hope that we can make a positive difference in the lives of those we touch.

While our Ambulance crews have shaken the hands of four U.S. Presidents, it truly gives us more pride and sense of accomplishment to see our touch bring a smile to the face of a frightened or lonely patient. Jan-Care Ambulance is committed to service.